This past week had been pretty slow. There has been lots of rainy day and a couple of thunderstorms. On the regular days I have tried to take the kids to play outside. I have tried to enjoy the little things, like watching my little boy with the geese and his reaction to them. Him enjoying a carousel ride, also my daughter getting her face painted.
I love taking pictures of my daughter, here she is after picking some flowers before the storm.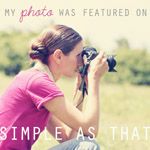 I love that she loves to help, she insists on helping me wash the dishes. How lucky I am, I hope she's always like this.
And, last but not least, today my son starts officially potty training. My daughter gave him a book so that he would stay, lol. I think this is hilarious!
I hope everyone has a wonderful Sunday! Thank you for stopping by!